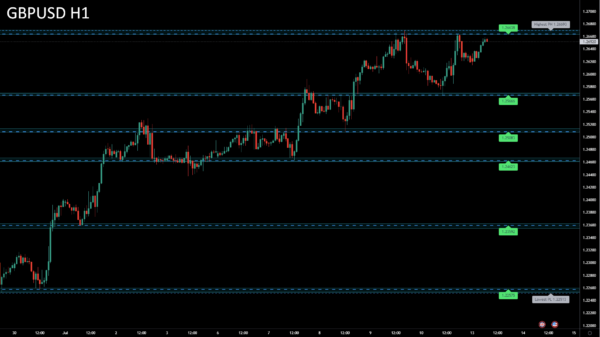 Tview SR
✅Auto Support/Resistance Levels
✅99% Perfect levels
✅Auto High/lows on chart
✅Working on All Timeframes
✅Working on all Forex pairs, Gold, Indices & etc.
✅Working with TradingView
How is the indicator used, you ask? CHECK MORE HERE
Description

Best Support and Resistance Indicator for TradingView
Our Support and Resistance Forex indicator is the best TradingView indicator helps reduce the risks and find more accurate points of entry to the market. Accurate support and resistance detector. Daily highs and lows. Breakouts.
The Support and Resistance Indicator aims to assist a trader in their everyday trading. It automatically spots the levels the price has actively interacted with before and draws them on the TradingView chart as rectangular areas.
The price range (height) of support or resistance areas depends on the spread between price highs and lows that the level goes through.
Resistance and support levels are marked in white and higher/ lows in blue
The occurrence of new highs/lows within the range of a specific support/resistance can expand its height.
The indicator working on all timeframes. The best for me to work with are M15-H1. How is the indicator used, you ask? CHECK MORE HERE